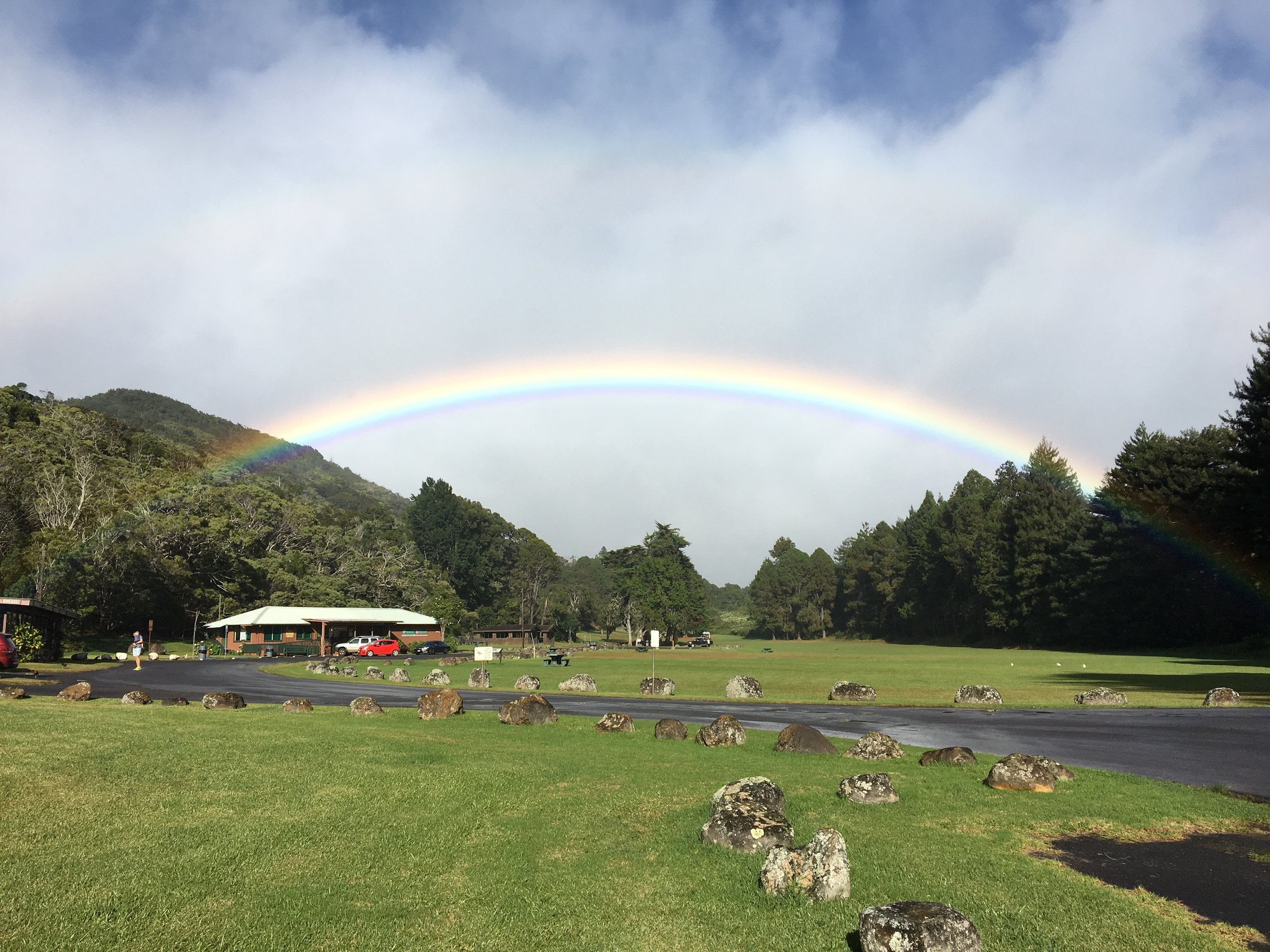 PHONE
808 335 6061
Location
Retaurant, Bar & Retail Shop Located just past Mile 15 of Koke'e Road in Kōkeʻe State Park

Mailing Address
PO Box 565
Waimea, Kauaʻi, HI
96796
Restaurant & Retail Shop Hours
Open 7 Days a Week 365 Days a Year
9am-4pm
Facebook
Like us on Facebook.
Contact Us
info@kokeelodge.com
Located in Kanaloahuluhulu Meadow, in the heart of Kokeʻe State Park, Kokeʻe Lodge is a cozy and historic place to eat and drink.
Waimea Canyon State Park, on Kauai's West Side, is described as "The Grand Canyon of the Pacific." Although not as big or as old as its Arizona cousin, you won't encounter anything else like this geological wonder in Hawaii. Stretching 14 miles long, one mile wide and more than 3,600 feet deep, the Waimea Canyon Lookout provides panoramic views of crested buttes, rugged crags and deep valley gorges. The grand inland vistas go on for miles.
North of Waimea Canyon on Kauai's West Side is Kōkeʻe State Park. Spread over 4,345 acres on a plateau 3,200 to 4,200 feet above sea level, Kokee State Park is covered in forest, wild flowers and hiking trails making it an excellent spot to see native plants and colorful endemic Hawaiian forest birds like the apapane, iwi and moa. The park also offers roughly 45 miles of the state's finest hiking trails. Some trails lead to views of Waimea Canyon, others wind through wet forests with sweeping views of valleys opening up to the North Shore
Welcome to the Koa Bar at Kokeʻe Lodge! Our menu changes seasonally so ask your server for the latest.
Our coffee bar serves only locally roasted coffee from Kauai Roastery. Baristas craft delicate pour overs, speciality espresso beverages and local fresh fruit smoothies. All syrups are made in house.
Come join us every Sunday afternoon by the fireplace from 12pm-3pm for LIVE MUSIC.
SPRING 2019 look out for local musician NICK CASTILLO playing and singing Hawaiian music on Sunday afternoons.
We are always looking to expand our musical offerings. If you are an interested local musician please email us at halepunakauai@gmail.com and include a brief introduction and links to your music.
Click the button above to visit West Kauaʻi Lodging's website in order to check the cabins' booking calendar.
All proceeds from the lodge go towards Hale Puna, a West Kauai 501(c)3 nonprofit whose mission is to perpetuate the rich history of Kauaiʻs westside while promoting cultural and economic resilience in the community.
Hale Puna, also known as the oldest house in Hawaii or the Gulick-Rowell Mission House, is located in Waimea on Kauai at 9567 Huakai Road, under the giant Monkeypod tree, next to the middle school, in front of the hospital.
Open every Thursday afternoon 3:30-5:30 during their farmers market offering donation based tours of the museum and food forest.
Visit halepuna.org for more info.